Adult Choir
Music Director, Malek McDuffie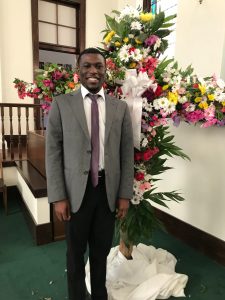 We have been very fortunate to have Malek M. McDuffie as our Music Director. Malek is a native of Sumter, South Carolina. He started playing the drums at the age of 12 and considers music his hobby as well as his career. He is currently a senior and about to graduate from Anderson University with a degree in Music Education. He will be leaving us soon (his last Sunday is June 23) to begin his teaching career at Richland School District One in Columbia, SC.
Pianist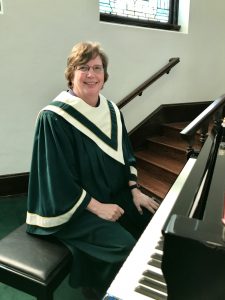 Barbara Anderson is a native of Oconee County and graduate of Walhalla High School. She felt God's call to music ministry at the age of 13 and has been serving in churches since that time in many capacities. Barbara has a Master of Music Education from Winthrop University and a Master of Music (Voice Performance) from Southwestern Baptist Theological Seminary in Fort Worth.
She has taught public school music K-12 for six years in both SC and Texas; voice, music education block courses and choral diction at Dallas Baptist University; private studio voice and piano instruction; and high school math in NC and now at West Oak High School in Westminster.
Barbara is an ordained minister and has served as a full-time minister of music at Bayshore Baptist Church in Tampa, Florida. There she led children's, youth, and adult choirs as well as planned, coordinated and led worship services.
When she is not teaching or playing the piano, Barbara enjoys woodworking, needle crafts, puzzles, reading and playing with her dogs Buddy and Dakota. Barbara is very grateful for the opportunity to serve Mt. Zion UMC as pianist and appreciates the many kind words of welcome and gratitude. She welcomes all correspondence. Her information can be found in the church directory.
Children's Choir
Children's Choir Director, Miriam Coffman
The children of our church meet with Miriam Coffman during the last portion of our worship service (after the children's moment) during the weeks prior to Christmas and Easter. During this time they rehearse special music that will be performed during these holiday worship services.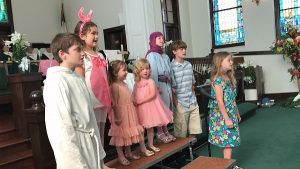 Children's Christmas Program, December 13, 2015 Third Sunday of Advent
Musical Opportunities
There are musical opportunities for individuals who are unable to serve full time in the choir, but are willing to share their musical talents, vocal or instrumental, on an occasional basis, especially during the summer months. Anyone interested in our musical program should call the church office at 864-639-2101 or contact us via e-mail.