The United Methodist Women's Unit at Mount Zion is comprised of "circles" (described below) overseen by a Leadership Team. The Leadership Team is comprised of the unit officers, the presidents of the circles, and the pastor.
The United Methodist Women leadership team members are:
President – Elizabeth Finley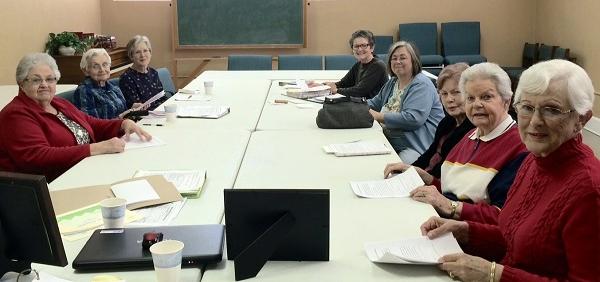 Vice-President – Kristine Reeves
Secretary – Sharon Chandler
Treasurer – Cherylene Amidon
Chair, Nominations – Myra Armistead
Member-at-Large – Sharon Miller
Member-at-Large – Virginia Norwood
President, Dolly Brock Circle – Ann Wilbanks
President, Eloise Gaines Circle – Elizabeth Finley
Pastor – Rev. Jonathan Harris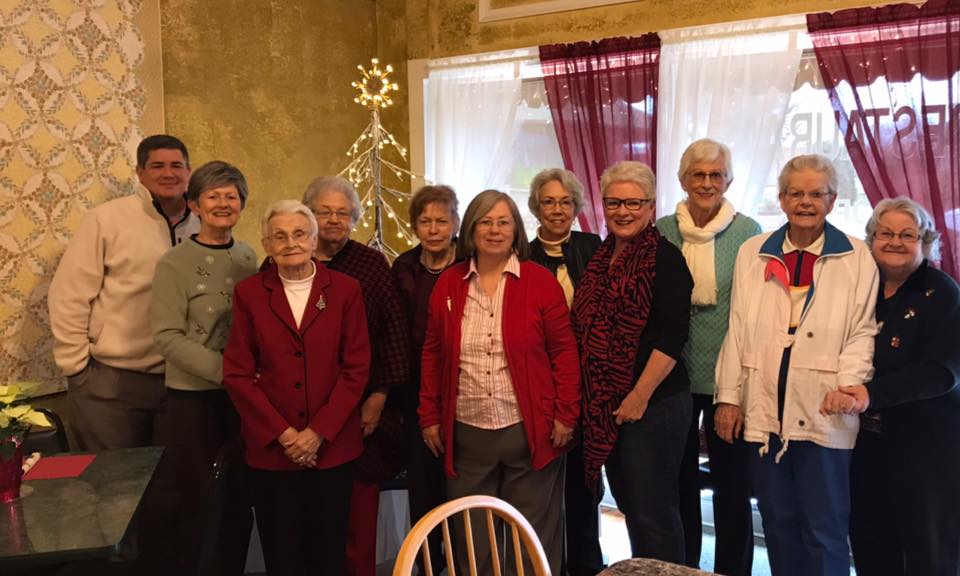 Our newest "circle" is the E-Circle:
Our newest "circle" is our E-Circle. It's completely electronic! We spread the news of church events, UMW projects and district events. There are no meetings to attend! All you have to do is open your e-mail. All of the members of the Beverly Smith Guild are members of the E-Circle.

Join today by clicking HERE (Join Mt. Zion E-Circle today!)
Eloise Gaines and Dolly Brock Circles (combined):
The attendance varies from month to month, but the members who attend are a unique blend of women from their mid-40's to mid-80's in age. There is always laughter, love, and life present at these meetings. Through Bible Study, support of each other in times of sadness and troubles, and work on Mission Projects we strive to become better disciples of Jesus.
Visitors are welcome with the hope that they may eventually wish to join us on a regular basis. There are no "dues". The primary focus is on supporting the United Methodist Women mission programs, charitable campaigns and local missions.
What we accomplished during the past year: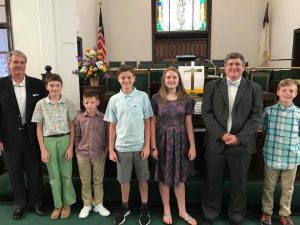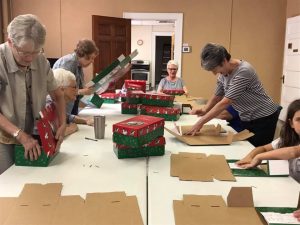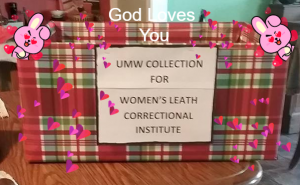 On September 22, 2018 we attended the Annual meeting of the Anderson District of the UMW at St. Andrews United Methodist Church, Easley.
In September of 2018 we recognized the confirmands from Mount Zion: Grayson Bowman, Cooper Koinskie, Ethan Green, Ansley Green, and Quint Cumbie. [above left]. Each new member of the church was given a card of congratulations and a gift of $10. The teachers were Ed Martin and Rev. Gene Aiken.
In September of 2018 the UMW made a $15 Gift in Memory donation for John Wisham as well as providing a chocolate cake for his funeral meal.
In September of 2018 the UMW purchased $73 worth of shoe boxes for the Operation Christmas Child mission project at Mount Zion.
In September our UMW subscription to Response Magazine was renewed for two years at a cost of $45.
On October 3, 2018, at our monthly meeting, we assembled 50 OCC shoeboxes to be used in our own mission project, as well as 75 to be used by the congregation. We purchase and assemble the red and green boxes for the congregation to use to make it easier for them to participate in the Operation Christmas Child Shoebox project. [above second picture from left].
On October 13, 2018, Sharon Chandler, Myra Armistead, Irene Buchanan, Chery Amidon, and Elizabeth Finley assisted with the wedding reception and clean-up for the wedding of Heather Alexander and Albert Drexler.
In October a payment of $350 was paid to the Anderson District UMW as our units' pledge for the year. We also gave a gift to Epworth Children's home.
In November a payment of $225 was made to Samaritans' Purse for Postage for delivery of the Operation Christmas Child Shoeboxes.
In November a collection of blankets given by UMW members was delivered to Helping Hands to be used as needed during Christmas.
In November the UMW ladies packed 50 shoeboxes for Operation Christmas Child, a project of Samaritans' Purse. Several items were donated by members and others purchased by the group. With promotion by UMW, our congregation filled another 61 boxes.
In December Chery Amidon attended the District UMW Officers Training at St. Johns UMC in Anderson.
In December $200 was spent on Christmas gifts for two children at Helping Hands in Central.
In December a $40 payment was made for our yearly Special Recognition Pin.
In December our group attended a Christmas luncheon at the Little Bistro in Liberty. We collected 30 fleece blankets that were donated to the Helping Hands Children's Home.
On February 10th the UMW hosted a Valentines luncheon after the Sunday service. It was a potluck luncheon with many hearty dishes contributed by members and the congregation. $220 in donations was collected. A special cake was purchased to celebrate the 150th anniversary of UMW (March 23, 2019). We made a donation in 2017 to the UMW Legacy Fund which has been established to assure continuation of the global organization. [above far right]
At our March meeting we decided to ask the congregation to help us with collecting supplies for Leath Correctional for Women. Elizabeth Finley covered a collection box and the number of items multiplied. [above second picture from right] This was a district-wide mission project which netted a tremendous amount of supplies.
Several of our members attended the 47th Anderson District UMW Day Apart that was held on Saturday, April 13, at the McKissick Center in Liberty.
At our April 3, 2019 meeting we voted to give:

a Gift to Mission in the amount of $30 ($10 each in the names of Dot Wilbanks, Virginia Norwood, and Golda Noblitt)
$25 to the World Thank Offering
$50 to UMCOR
$100 to Kat Laun, missionary in Nepal and the granddaughter of Irene Buchannan.
a gift of $25 each to the five missions:

Bethlehem-Columbia $25
Bethlehem-Spartanburg $25
Killingsworth $25
Rural Mission $25
Wallace Family Life $25