WORSHIP iN THE SANCTUARY
SUNDAYS AT 11:00 AM
310 Church St.
Central, SC 29630
*PLEASE NOTE THAT DUE TO COVID-19 THERE IS CURRENTLY NO NURSERY.
WE ENCOURAGE FAMILIES TO WORSHIP TOGETHER.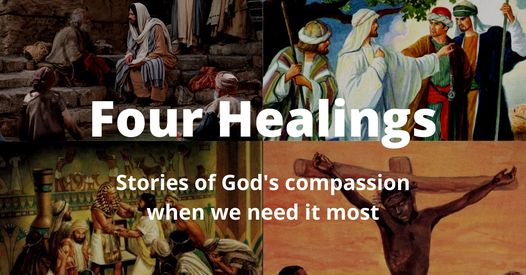 There is so much healing needed in our world today: from COVID, from anger, from division.
The list goes on and on.
Join in worship each Sunday in September as we hear stories from the Bible that remind us that we serve a God who continues to offer healing to a hurting world!
CURRENT WORSHIP SERIES
(September 5, 12, 19, 26)
FOUR HEALINGS
Stories of God's compassion
when we need it the most.
WORSHIP UPDATE – AUGUST 31, 2021
Mt. Zion family,
Thanks to everyone who participated in last night's Church Council meeting. Following that time of prayer and conversation, I would like to share the plans that were approved by the council for September and October.
For the month of September, we will continue worshipping in the sanctuary at 11 a.m. Everyone is asked to please wear a mask over their mouth and nose and to practice social distancing while inside the church building, regardless of vaccination status. Rather than having a choir, we will have a fully vaccinated soloist singing from the choir loft. Hand sanitizer will continue to be available at the entrance to the sanctuary. For any who are uncomfortable attending in-person, the service will be streamed online at 11 a.m. at
facebook.com/MtZionCentral
.
In October, we will begin worshipping outside at 11 a.m. and ask everyone to please follow whatever the
CDC's masking guidance
is when that time comes. In the event of rain, we will move worship back into the sanctuary using the same protocols from September. These services will also continue to be streamed online at 11 a.m. at
facebook.com/MtZionCentral
.
We will have another Church Council meeting on Monday, October 11 at 6:30 p.m. on Zoom to reassess the COVID-19 situation and make plans for beyond the end of October. As always, everyone is invited to participate, whether you are a member of the Church Council or not.
Thank you for your ongoing care and concern for one another, particularly for "the least of these" (Matthew 25:40). We'll see you in worship in-person or online this coming Sunday as we celebrate God's grace in our lives together!
In Christ,
Pastor Jonathan