*PLEASE NOTE THAT DUE TO COVID-19 THERE IS CURRENTLY NO NURSERY.
WE ENCOURAGE FAMILIES TO WORSHIP TOGETHER.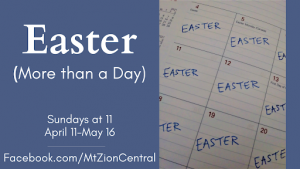 CURRENT SERIES:
EASTER (MORE THAN A DAY)
Easter isn't just a day. As a hymn writer once said, "Every day to us is Easter." We are an Easter people. Join in worship and Sunday school from April 11 to May 16 as we hear the stories of Jesus following his resurrection on Easter morning and consider how Jesus continues to meet us today!