WORSHIP iN THE SANCTUARY
SUNDAYS AT 11:00 AM
310 Church St.
Central, SC 29630
*PLEASE NOTE THAT DUE TO COVID-19 THERE IS CURRENTLY NO NURSERY.
WE ENCOURAGE FAMILIES TO WORSHIP TOGETHER.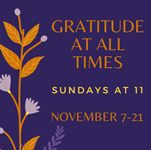 NOVEMBER WORSHIP SERIES:
"Gratitude at all Times"
November is a month each year when we set aside time to give thanks. However, it can be hard to give thanks when there are circumstances around us that we are not grateful for. Join in worship the first three Sundays in November as we hear about people from Scripture who went through challenging circumstances and nevertheless found reasons to have gratitude.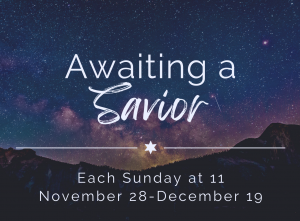 ADVENT WORSHIP SERIES:
"Awaiting a Savior"
Advent isn't just about celebrating Christ's coming more than 2000 years ago; it is about preparing for Christ's return. Join in worship each Sunday in Advent as we join together in actively awaiting a savior!