COVID-19 PROTOCOLS (updated FOR November 7, 2021)

For our 11 a.m. worship service each Sunday in the sanctuary, please follow these safety protocols: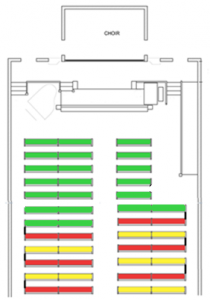 Please wear a mask over your mouth and nose while finding your seat and exiting, regardless of where you choose to sit.
Green pews – Social distancing and masking not required in this section once you are seated.
Yellow pews – Please practice social distancing (6 feet between you and other individuals or families), and wear a mask over your mouth and nose.
Red pews – Please leave these empty to allow for social distancing.
Do we get to have congregational singing? Not yet. However, we will have a fully vaccinated choir singing during worship.
What if I have to go to the bathroom? Restrooms are available through the doors at either side of the sanctuary.
Is there a nursery? Not at this time. We encourage families to worship together!
How will we give our offering? You may continue giving online or by mailing a check to PO Box 186, Central, SC 29630. You may also place your offering in the offering plate when it is passed.
What if I learn I have COVID-19? If you attended a service or small group gathering, and you learn that you may have had COVID-19, please let Pastor Jonathan know immediately at 843-251-3279 or mtzion@nctv.com. Your identity will be kept confidential.
What if I don't yet feel comfortable being around other people? It is perfectly okay to continue participating from home! We will continue streaming the service online each Sunday morning at facebook.com/mtzioncentral. You may also join Bible study or Sunday school via Zoom.
Please note: In keeping with guidance from the SC United Methodist Conference, the CDC, and DHEC, all who are eligible to be vaccinated against COVID-19 are encouraged to please do so. If you have any questions or concerns about any of the vaccinations, please talk to your doctor.