COVID-19 PROTOCOLS (updated for June 13, 2021)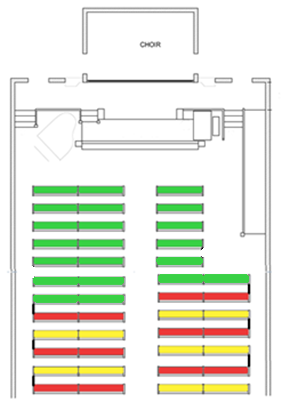 Seating Diagram Key:
Green pews – Social distancing and masking not required in this section once you are seated.
Yellow pews – Please practice social distancing (6 feet between you and other individuals or families), and wear a mask over your mouth and nose.
Red pews – Please leave these pews empty to allow for social distancing.
Please note: Please wear a mask over your mouth and nose while finding your seat and exiting, regardless of where you choose to sit.
Updated COVID-19 Protocols
In light of recent updates in guidance from the Centers for Disease Control (CDC) and the South Carolina Conference of The United Methodist Church, and in consultation with Benji Cumbie (Lay Leader), Ed Martin (Church Council Chairperson), and Kathy O'Brien (Staff-Parish Relations Chairperson), the following COVID-19 protocols are in effect for indoor activities starting June 6:
Do I need to wear a mask during worship? Everyone is asked to wear a mask over their mouth and nose when entering and exiting. The following seating arrangements will be offered:
If you prefer to not practice masking and social distancing, please sit in the first five pews on either side of the sanctuary. You may remove your mask once seated.
If you prefer to continue practicing masking and social distancing, please sit from the 6th row to the back of the sanctuary, where social distancing and masking will continue to be followed.
Below are answers to frequently asked questions:
Do we get to have congregational singing? Not yet. However, we will begin having a choir again. Anyone who is fully vaccinated is invited to participate in the choir.
What if I have to go to the bathroom? Please use the restroom that is accessed through the door at the top of the sanctuary ramp. Our "Potty Patrol" volunteers will make sure the bathroom gets cleaned between each user.
Is there a nursery? Not at this time. We encourage families to worship together!
How will we give our offering? You may continue giving online or by mailing a check to PO Box 186, Central, SC 29630. There is also an offering box where you may place your offering as you enter or exit the service.
Are masks required for indoor small group gatherings (such as Adult Sunday School)? Those who are fully vaccinated and are comfortable removing their masks may choose not to wear a mask during indoor small group gatherings. Those who are not yet fully vaccinated or are not comfortable removing their masks are encouraged to continue wearing masks during indoor small group gatherings.
What if I learn I have COVID-19? If you attended a service or small group gathering, and you learn that you may have had COVID-19, please let Pastor Jonathan know immediately at 843-251-3279 or mtzion@nctv.com. Your identity will be kept confidential. There are conference protocols that require the church to notify others who attended that service that someone may have had COVID-19 (without sharing who it was).
What if I don't yet feel comfortable being around other people? It is perfectly okay to continue participating from home! We will continue posting the service online each Sunday morning at facebook.com/mtzioncentral. You may also join Bible study or Sunday school via Zoom (see details on pages 6 and 7).
Please note: In keeping with guidance from the SC United Methodist Conference, the CDC, and DHEC, all who are eligible to be vaccinated against COVID-19 are encouraged to please do so. If you have any questions or concerns about any of the vaccinations, please talk to your doctor.