Making Beautiful Music at Mount Zion
A Dual Role — Music Director and Pianist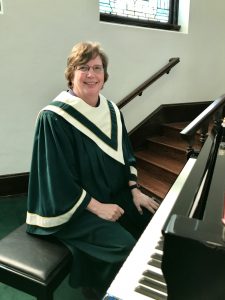 Barbara Anderson is a native of Oconee County and graduate of Walhalla High School. She felt God's call to music ministry at the age of 13 and has been serving in churches since that time in many capacities. Barbara has a Master of Music Education from Winthrop University and a Master of Music (Voice Performance) from Southwestern Baptist Theological Seminary in Fort Worth, Texas.
She has taught public school music K-12 for six years in both South Carolina and Texas; voice, music education block courses, and choral diction at Dallas Baptist University; private studio voice and piano instruction; and high school math in North Carolina and now at West Oak High School in Westminster.
Barbara is an ordained minister and has served as a full-time minister of music at Bayshore Baptist Church in Tampa, Florida. There she led children's, youth, and adult choirs as well as planned, coordinated, and led worship services.
When she is not teaching or playing the piano, Barbara enjoys woodworking, needle crafts, puzzles, reading and playing with her dogs Buddy and Dakota. Barbara is very grateful for the opportunity to serve Mount Zion United Methodist Church as the music director and pianist. She has handled the dual role very adeptly. Barbara appreciates the many kind words of welcome and gratitude. She welcomes all correspondence. Her information can be found in the church directory.
Adult Choir
Mount Zion takes great pride in it's choir. We have cherished beautiful music over the years. Our congregation appreciates both traditional and praise music, singing in four part harmony (soprano, alto, tenor, and bass). Over the years we have had many talented choir directors and pianists that have managed to mold this volunteer choir into a reliable force that has led and enlivened the congregation's song. The choir serves as a small group within the church which supports faith formation. To sing beautiful music, which is sometimes challenging, glorifies God and edifies the congregation.