Nursery and Sunday School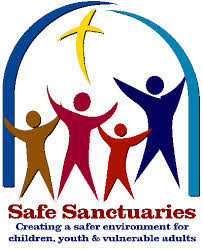 Safe Sanctuary Guidelines for the Nursery and Sunday School
Mt. Zion follows the Safe Sanctuary Guidelinesrecommended by the United Methodist Church.
ALL nursery volunteers and Sunday School teachers have passed background checks pursuant to our Safe Sanctuary Guidelines.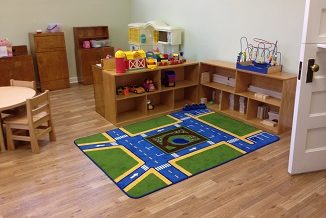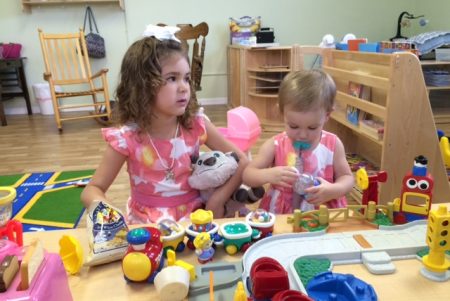 The nursery at Mount Zion is for infants and toddlers up to the age of 5. There are two adults supervising the nursery have passed background checks which is provided during both Sunday School and the Worship Service. The nursery is located on the lower level of the church building. You may use the stairs on the right hand side of the sanctuary or enter the lower level through the back door which leads into the kitchen. Turn left and it will be the second door on the left hand side of the hallway near the staircase. On Sunday mornings, after the Children's Moment during the worship service, the nursery-age children will be escorted to the nursery by the two nursery workers or they may remain in the worship service with their parents.
Small infants that are sleeping have a separate area where they won't be disturbed by the older toddlers.
The children at Mount Zion are a very important part of our church. They represent the future and we have recently completed a renovation of our nursery to reflect this new emphasis.
Play centers and many hands-on activities with manipulatives are available to enhance motor skills, sharing, and caring during supervised play.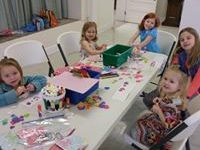 K, 5K, Grades 1 & 2 Teacher Schedule
2018
January – Karen Smith and Cindy Owens
February – Sharon Chandler and Beth McWilliams
March – Katie Aiken and Heather Cumbie
April – Drew and Ashley Gelder
May – Karen Smith and Cindy Owens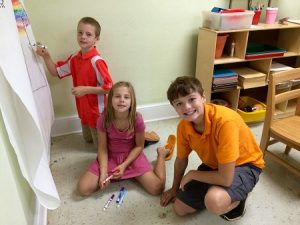 Grades 3-5 Teacher Schedule
2018
January – Ginger and Trent Allen
February – Terry Lee and Elizabeth Finley
March – Ginger Mullinax
April – Gene Aiken and Randy Martin
May – Ginger and Trent Allen
Sunday School meets at 9:45 a.m. in the downstairs classroom area. Due to a wonderful increase in the number of children, beginning September 11, 2016, there will be a rotational schedule for the teachers with the creation of additional classes. The curriculum being used is Deep Blue Adventures.
---
---
Adult Sunday School
There is an adult Sunday School class which meets at 9:45 a.m. It is located in the downstairs meeting room.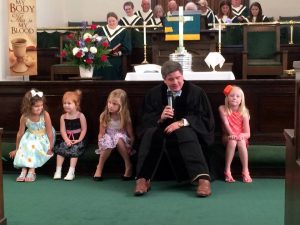 The Children's Message
The children's message during the worship service is a time for the children to come to the altar for a mini lesson with the pastor. Children under the age of five may attend the worship service with their parents, participate with the other children at the altar; and when the children's message is finished, they may either return to their parents or go downstairs to the nursery. The lesson is often parallel to the pastor's sermon as recommended by the Lectionary of the
General Board of Discipleship of the United Methodist Church.