outdoor worship during COVID-19
Outdoor Worship began out of necessity when the COVID-19 pandemic kept us from worshiping indoors. As we considered the possibility of having outdoor services in late summer 2020, we realized it was way too hot to sit in our cars or even in the limited shade at Mount Zion.
Rev. Alfred Wright invited us to join Central and Bethel United Methodist Churches to worship in the shade of the big trees at Central United Methodist Church. Thanks to their generous hospitality, we were able to worship outside together with friends old and new!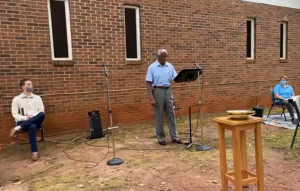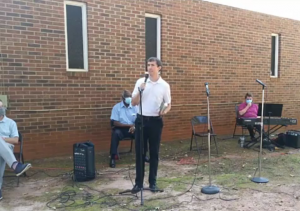 *PLEASE NOTE THAT DUE TO COVID THERE IS CURRENTLY NO NURSERY.
WE ENCOURAGE FAMILIES TO WORSHIP TOGETHER.
Easter Sunday 2021 gave the three churches an opportunity to gather together again, but this time under a big tent!


Marissa Harris
Flutist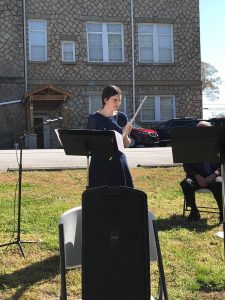 Girls Offering
of Artwork
Zechariah Copeland
Student Intern from SWU